Re: [unrev-II] XML at IBM...
From: Eric Armstrong (eric.armstrong@eng.sun.com)
Date: Tue Apr 25 2000 - 15:43:31 PDT

Next message: Eric Armstrong: "[unrev-II] Collaborative Systems Development Efforts, v.3"
---
Great article. I especially liked the News DTD:

News DTD
The news vocabulary is used to describe a news article. For each
article, we use a simple set of tags that describe both the content and
information about the content. The tags in the <Head> section are used
to summarize and categorize the document, while the <Body> section
contains the text of the article itself. The <Xlink> tag uses the
emerging XLink standard to refer to related articles. Our implementation
is based on a subset of the current draft of the XLink standard.

To keep things simple, the text tags in the <Body> section are very
limited. There are no list tags (such as <ol> and <ul>) or formatting
tags (such as <b>, <i>, and <u>) to complicate rendering. The simple tag
set also makes it easy to manage the stylesheets that convert this
markup into HTML. The DTD has this structure:

Figure 2. Structure of the news DTD (attached)

The DTD is a little limited, but a potentially useful starting point.
------------------------------------------------------------------------
Your high school sweetheart-where is he now? With 4.4 million alumni
already registered at Classmates.com, there's a good chance you'll
find her here. Visit your online high school class reunion at:
http://click.egroups.com/1/3139/3/_/444287/_/956702700/
------------------------------------------------------------------------

Community email addresses:
Post message: unrev-II@onelist.com
Subscribe: unrev-II-subscribe@onelist.com
Unsubscribe: unrev-II-unsubscribe@onelist.com
List owner: unrev-II-owner@onelist.com

Shortcut URL to this page:
http://www.onelist.com/community/unrev-II

---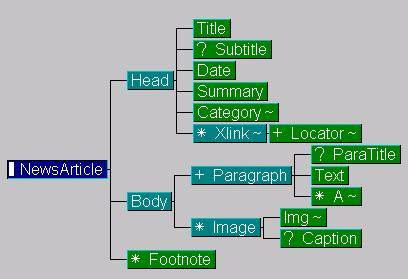 ---
---
This archive was generated by hypermail 2b29 : Tue Apr 25 2000 - 15:52:38 PDT